CDS duo wins scholarship to join premiere D.C. seminar
Originally published March 7, 2019 by Center for Disabilities Studies
Five teams from U.S. college programs for students with intellectual disabilities will be going to Washington, D.C. to join a gathering of leaders in disability politics – and one of those teams will be coming from UD's Career and Life Studies Certificate (CLSC) program.
Daniel Lanier III, a second-year CLSC student, and Rebecca Jewell, the program assistant, were recently named Think College Policy Advocates by Think College, a nonprofit organization promoting postsecondary education for students with intellectual disabilities, and the Association of University Centers on Disabilities. With the recognition comes financial support to attend the Disability Policy Seminar in Washington, D.C., where advocates learn about pressing political issues and visit lawmakers on Capitol Hill.
Lanier says he will be focusing on education policy, with the goal of "[becoming] an active supporter for civil rights, especially the right to an education." Making schools more accessible, he says, will benefit a number of historically marginalized groups, including individuals with disabilities, people of color and those with mental conditions such as PTSD and substance use disorder.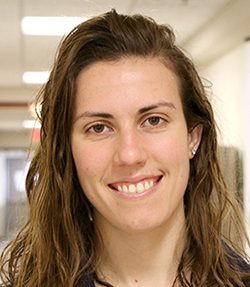 CLSC Program Assistant and Think College Policy Advocate Rebecca Jewell
"We cannot exclude people," Lanier says.
Jewell, who spent more than 450 hours working with CLSC as a UD undergraduate and was hired soon after completing her degree, says she's hoping the seminar provides her an introduction to legislative advocacy. Relishing the chance to meet with Delaware's elected representatives on Capitol Hill, she says she will emphasize to them "the value of including students with intellectual and developmental disabilities in schools, workplaces and the community."
This entry was posted in About CDS, News, News from CDS and tagged Advocacy and Public Policy, Career and Life Studies Certificate, disability rights advocate, Think College.