Literacy for All
This webinar from CDS includes techniques and strategies parents and professionals can use to help individuals with complex communication needs acquire literacy skills. Karen Erickson, director of the Center for Literacy and Disability Studies at the University of North Carolina at Chapel Hill, presents.
---
UD resources helping people cope during Covid
The University of Delaware's Center for Disabilities Studies reveals in this webinar how resources developed or provided by its team members are benefitting educators, first responders and people with disabilities amid the pandemic. Presenting are CDS Director Beth Mineo, CDS K-12 unit Director Debby Boyer and CDS Health and Wellness unit Interim Director Sarah Mallory.
---
Spectrum Scholars
This video offering explains the benefits of the Spectrum Scholars college-to-career program for undergraduate students with autism at the University of Delaware, in collaboration with JPMorgan Chase & Co. and administered by the University's Center for Disabilities Studies.
---
Delaware Advance Scholarship Program
Legislation creating the Delaware Advance Scholarship Program makes additional tuition assistance available to students with intellectual disabilities in college programs. Gov. John Carney signed the bill into law July 12, 2018.
---
Summer CLSC Experience
This promotional video was a collaboration with videographer Maggie DeGennaro to help us share the Summer CLSC Experience with others. Featuring the 2017 Summer CLSC cohort (high school students from across Delaware), the video provides an overview of the program and captures students' and families' perspectives on the benefits of participating. The video also includes footage of students engaging in job shadowing experiences, workshops and campus life.
---
CLSC Lunchtime Learning session
UD students in the CDS-administered Career and Life Studies Certificate (CLSC) program for individuals with intellectual disabilities, and CLSC Program Director Brian Freedman, discussed with the public and prospective enrollees how the unique Delaware program can enhance confidence, skills and the ability to live independently. To view the slideshow, click this link or click on the image below.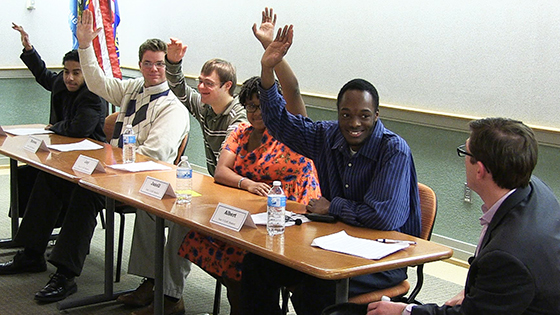 ---
Students with Disabilities Dazzle, Receive Honors at University of Delaware
These exceptional young men and women who took center stage at UD's College of Education and Human Development's convocation ceremony aren't letting their intellectual disabilities get in the way of their education and career paths. Each graduated with a Career and Life Studies Certificate.