Student feedback necessary to improve school climate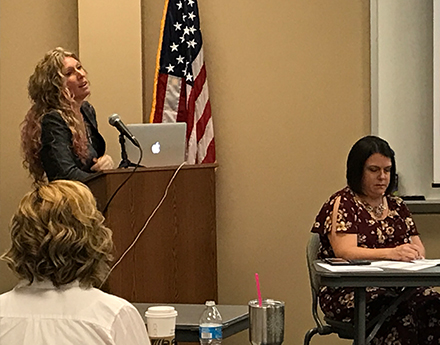 Talley Middle School Assistant Principal Melinda Tartaglione (standing) and the Delaware Positive Behavior Support (PBS) project manager Sarah Hearn (seated right) demonstrate how educators can use data to make the classroom safer and more engaging.
Student feedback, gathered through the Delaware School Climate Surveys and other methods, must inform educators' efforts to improve the learning environment, said panelists from the Center for Disabilities Studies and Brandywine School District at a CDS event Tuesday. The panel discussion was the latest Lunchtime Learning event, a series of monthly gatherings in which CDS staff and outside specialists explore programs, initiatives and topical issues in the disability community.
Sarah Hearn, the Delaware Positive Behavior Support (PBS) project manager, said that research indicates positive climate leads to improved academic outcomes and increased student and staff attendance. CDS annually administers the Delaware School Climate Surveys to students, educators and parents to help determine their perspectives on their school's climate, defined by characteristics such as school safety, student engagement with lessons and clarity and fairness of expectations.
Talley Middle School Assistant Principal Melinda Tartaglione said that particularly negative or positive answers to individual survey questions help educators and administrators pinpoint areas of strength and issues to address. However, that depends on the data – and training in interpreting it – reaching the right people, said Brandywine School District Social Worker Donna Carroll. She said having a district-level administrator responsible for ensuring that coordination is essential.
In Brandywine, that person is Director of Support Services, Equity, Climate and Culture Yolanda McKinney. McKinney said that district-level dedication to school climate enables school leadership and PBS teams to create coherent strategies for addressing climate issues. In some cases, she said, this could involve training school administrators; in other cases it could involve hiring new staff. Brandywine recently hired deans of students for several schools, adjusting their typical role as disciplinarians to one more focused on climate improvements.
Said McKinney: "If the school climate and culture is not good, there's not going to be much learning. It's very important to us that ... all our students have the access they need to learn." 
This entry was posted in About CDS, News, News from CDS and tagged Education, K-12 Education, Positive Behavior Support (PBS), school climate.