First Spectrum Scholars training acquaints UD resident assistants with autism
Originally published January 24, 2019 by Center for Disabilities Studies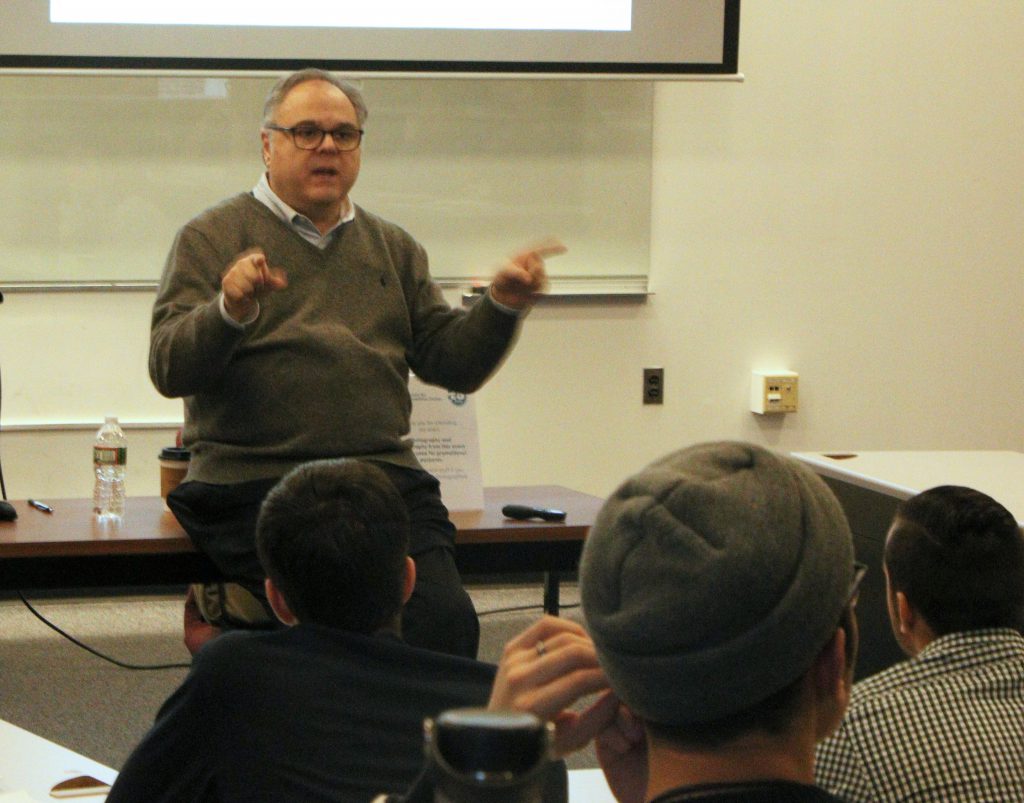 Postsecondary education specialist Vincent Varrassi addresses UD resident assistants at an autism acceptance training.
Spectrum Scholars, a joint effort by CDS and JPMorgan Chase to make the college-to-career path more accessible for UD students with autism, held its first community training session last week in collaboration with UD Residence Life & Housing. More than 20 resident assistants (RAs) gathered in Purnell Hall to hear Vincent Varrassi, a specialist in postsecondary education for young adults with disabilities, discuss challenges facing college students with autism.
The session marks the beginning of a multi-year series of autism acceptance trainings the recently-launched Spectrum Scholars will offer to UD faculty, staff and students and local employers. The program also provides coaching, mentoring and internship opportunities to participating UD students with autism pursuing degrees in computer and information sciences and electrical and computer engineering.
Varrassi explained to the RAs that certain characteristics of autism, such as difficulty interpreting nonverbal communication, reluctance to initiate conversations, repetitive behaviors and heightened sensitivity to noise and touch, present social and academic barriers to college success for students with autism.
Showing these students empathy, Varrassi said, is vital, particularly in situations where RAs and residents with autism are at risk of misunderstanding each other. He emphasized the need for flexibility and a willingness to listen, because finding the best supports for each individual requires asking "questions we need to think about as a community."
This "glimpse into the life of people with autism … will help me be more empathetic and understanding when I see behavior that might at first seem troubling," said Corey Moore, an RA in James Smith Hall.*
Sam, an autistic UD student and Spectrum Scholars ambassador, showed the RAs the difference between person-first ("student with autism") and identity-first ("autistic student") language. Agreeing with Varrassi about the importance of understanding an individual's preferences, she encouraged RAs to ask residents with autism which they preferred rather than guess and risk causing offense.
If the RAs in attendance left the session with "a better understanding of what it means to be autistic," Sam said, "that knowledge means that they can adapt their own behavior. They'll hopefully recognize issues … and be more prepared to act on those issues if need be."
*Corey Moore spoke as an individual student for this dispatch, not as a representative of Residence Life & Housing.
This entry was posted in About CDS, News, News from CDS and tagged Autism, college, spectrum scholars.