Spectrum Scholars conducts autism acceptance training for UD career services
Originally published March 1, 2019 by Center for Disabilities Studies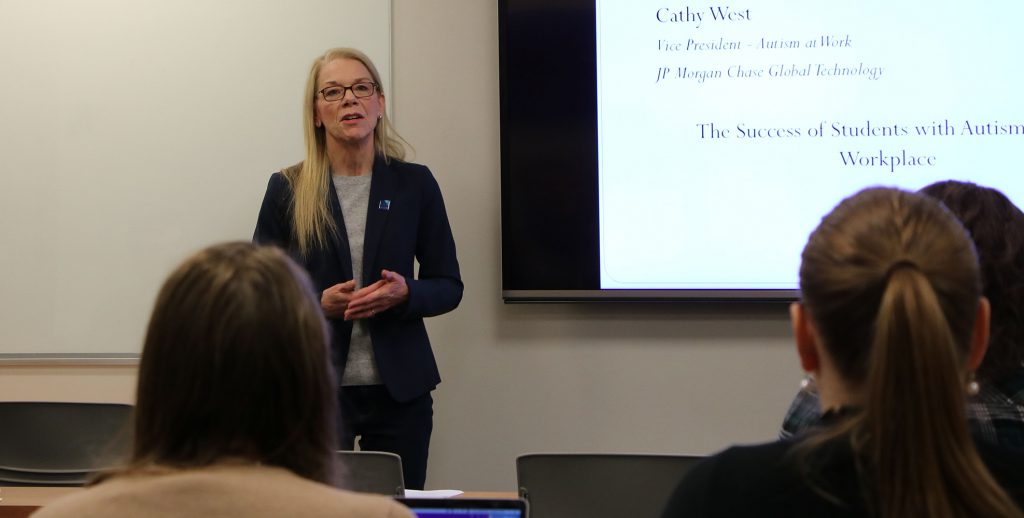 Cathy West, vice president for JPMorgan Chase's Autism at Work program, presents to the UD Career Services Center.
Spectrum Scholars, UD's college-to-career program for undergraduates with autism, expanded its autism acceptance campaign with a training for the university's Career Services Center staff in late February.
A collaboration between the university and JPMorgan Chase, Spectrum Scholars combines targeted supports for undergraduates with autism majoring in computer science and electrical engineering with a broad push to spread autism acceptance through UD and the community by teaching faculty, staff, students, employers and others about the condition.
Presenter Cathy West, vice president for JPMorgan Chase's Autism at Work program, said that career services play a particularly significant role for students with autism by directing them toward internships and helping them practice interview skills. "Internships are the ultimate foot in the door" to companies that may end up offering full-time positions, she explained.
West emphasized that people with autism can perform as well, if not better, than neurotypical employees when offered reasonable workplace supports. Autism at Work, she said, "is not charity. It's a play for talent."
Career Services Center Senior Associate Director Rachel Coppola said the presentation offered specific strategies for coaching job-seekers with autism. She pointed to tips about giving explicit feedback, setting clear due dates and asking how the individual would prefer to be identified as simple but effective ways for counselors to better serve students with autism.
Since the session, career services staff have been exploring ways to build on the information they learned, said Coppola. Counselors are "asking what we can be doing on campus that we aren't right now," she said. "We're doing more in-depth research, looking into additional training – we have to understand all our students in order to serve them as best we can."
This entry was posted in About CDS, News, News from CDS and tagged Autism, career, Employment & Life Skills, internship, job, JPMorgan Chase & Co., JPMorgan Chase and Co., spectrum scholars.