Making strides: panelists cite benefits of equine therapy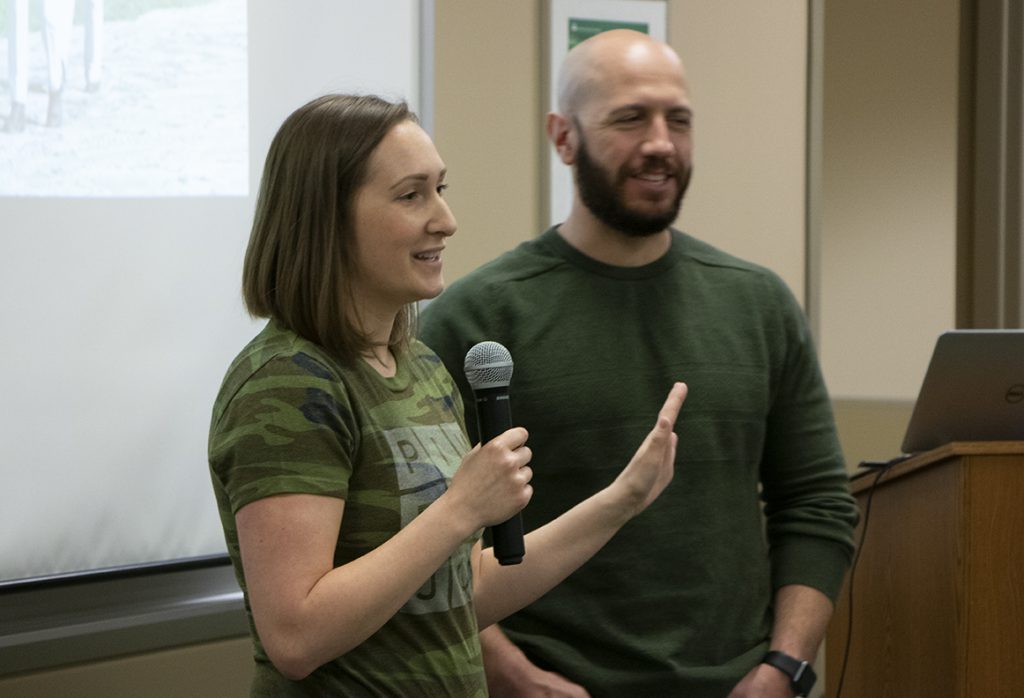 Megan and Josh Desilet speak about their daughter's experience with hippotherapy at CDS's April Lunchtime Learning event.
Hippotherapy, a treatment strategy that incorporates horses into occupational therapy, physical therapy and speech-language pathology, can aid the physical and emotional development of individuals with developmental disabilities, said a researcher, a clinician and the parents of a client who spoke at CDS on Thursday. Their discussion of hippotherapy was the latest in CDS's Lunchtime Learning series on current issues in the disability community.
Occupational therapist Lauren Janusz, who holds a certification in hippotherapy and a leadership position in the American Hippotherapy Association, said the benefits of the therapy stem from the characteristics of horses' gait. Clients constantly adjust their bodies to their horses' consistent movement, building strength in their abdominal, back and pelvic muscles.
With a stronger core enabling them to hold a more stable posture, Janusz said, individuals can focus on developing gross, fine and oral motor skills. However, she cautioned that hippotherapy was not appropriate for all clients and the decision to try it should only be made after evaluation and consultation between therapists and clients.
Megan Desilet, whose four-year-old daughter Madison has been Janusz's client for several months, said "you can tell Maddy feels more in control of her body." She mentioned her daughter's improved strength, balance and coordination. She also highlighted improvements in "things you wouldn't necessarily think of," including confidence and independence.
Madison's progress in hippotherapy also affects her parents, said Josh Desilet, Madison's father. "Since I can see she has a lot more confidence in her ability," he said, "I have more confidence in stepping back and letting her try things on her own."
There has been only limited academic research into hippotherapy's benefits for individuals with developmental disabilities. UD's Anjana Bhat, a physical therapy professor and mentor in the Leadership Education in Neurodevelopmental Disabilities program, said the few studies that focus on the practice have found improvements in sensory processing and increases in positive behavior and spontaneous communication.
Hippotherapy, when provided by a licensed physical, occupational or speech therapist, is often covered by insurance, including Delaware Medicaid, said Janusz.
This entry was posted in About CDS, News, News from CDS and tagged anxiety, Autism, depression, health care, hippotherapy, physical therapy, ptsd, therapy.