Island paradises: our 12th Artfest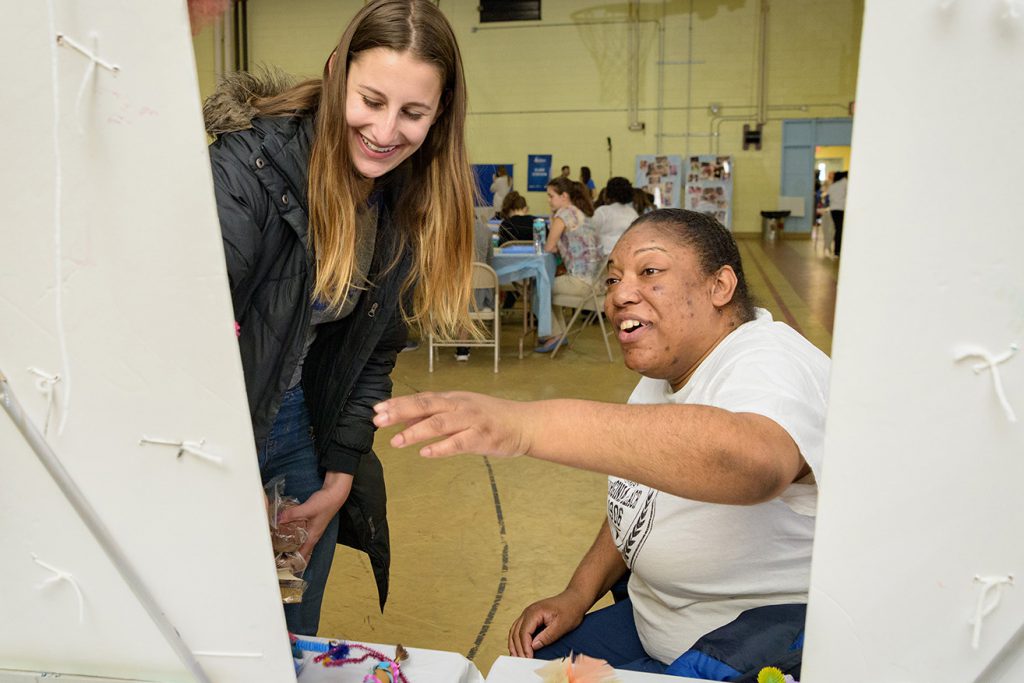 At Artfest 2018, UD student volunteer Chloe Weissman (left) and participant Ebony Tucker admire a finished project. (Evan Krape / University of Delaware)
Yearning for warm sands and tranquil seas this spring? Look no farther than the Absalom Jones Community Center in Newport, Del. On April 27, Delawareans with disabilities and University of Delaware student volunteers will team up to paint their own tropical island paradises at Artfest, a celebration of community and creativity.
Now in its 12th year, Artfest is a collaboration of the Center for Disabilities Studies, Art Therapy Express and the New Castle County Department of Community Services.
"Since life is a celebration, we are holding a painting party," said Lisa Bartoli of Art Therapy Express. Each Artfest participant will receive a canvas and follow along as Bartoli demonstrates painting the island scene. After finishing the basics of beach, sea and sky, artists will personalize their pieces by adding figures, flora and the like. A range of adaptive brushes will be available, as will stencils and other support materials.
This is a change from previous Artfests, which featured multiple art projects. This time, Bartoli says, participants will get the chance to enjoy and craft, unhurried, a more involved piece. "It's a success-oriented project," she said, where participants will get to come home with "one thing to be really proud of."
The event also offers participants like Ebony Tucker the opportunity to form bonds with UD student volunteers, such as Chloe Weissman. "When I heard about this year's Artfest," said Tucker, "the first thing I did was ask Chloe if she was coming. Oh my gosh, that girl is amazing."
The pair bonded last year over marble painting and other artistic pursuits. "We spent a little while getting to know each other," said Weissman, a UD education major. "Then it was just like hanging out with an old friend."
"There's an instant connection," said Bartoli. "I think the art builds that bridge."
An Artfest bonus
While their paintings dry, participants and volunteers will have the opportunity to express themselves in another way: through movement. Zumba instructor Josée Spence will lead an inclusive session during a short break open to all participants and volunteers who wish to dance.
Spence, who has danced with Art Therapy Express participants before, says participants get to move about in ways that are comfortable to them. "Everyone's wholeheartedly into what they're doing, without any fear of judgment," she said.
It's hard to describe the joy of "using the body as a means of expression," Spence said, but, like painting, "that's what makes it special. Part of the beauty is that you can't put it into words."
---
Experience Artfest on Saturday, April 27, from 11 a.m. to 1 p.m. at the New Castle County Absalom Jones Community Center, 310 Kiamensi Rd., Newport, Delaware.
To participate or volunteer, complete the online registration form or contact Zachary Davis at olenska@udel.edu The deadline for registration is April 18.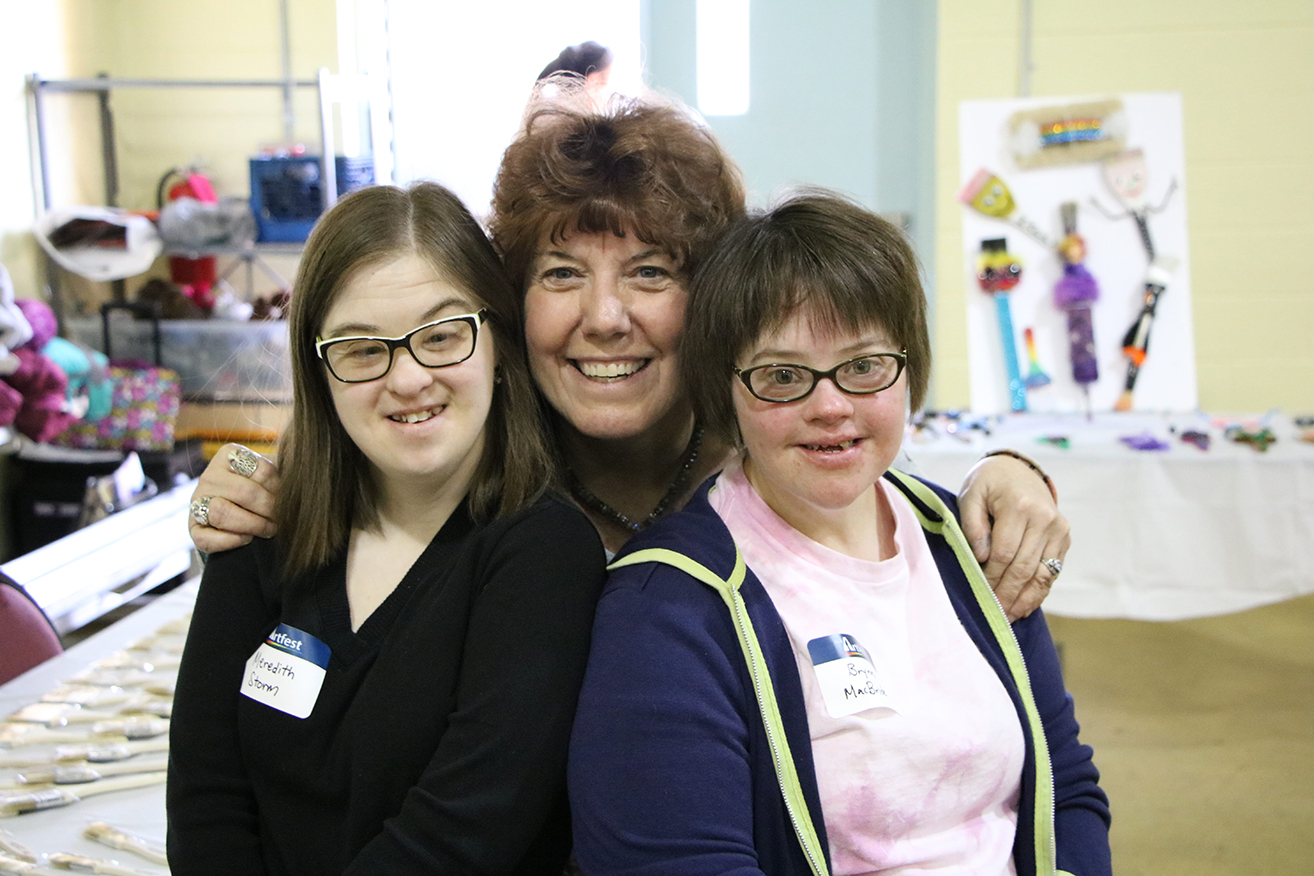 Lisa Bartoli of Art Therapy Express poses between Artfest regulars Meredith Storm (left) and Brynn MacBride. (Karl Malgiero/ University of Delaware)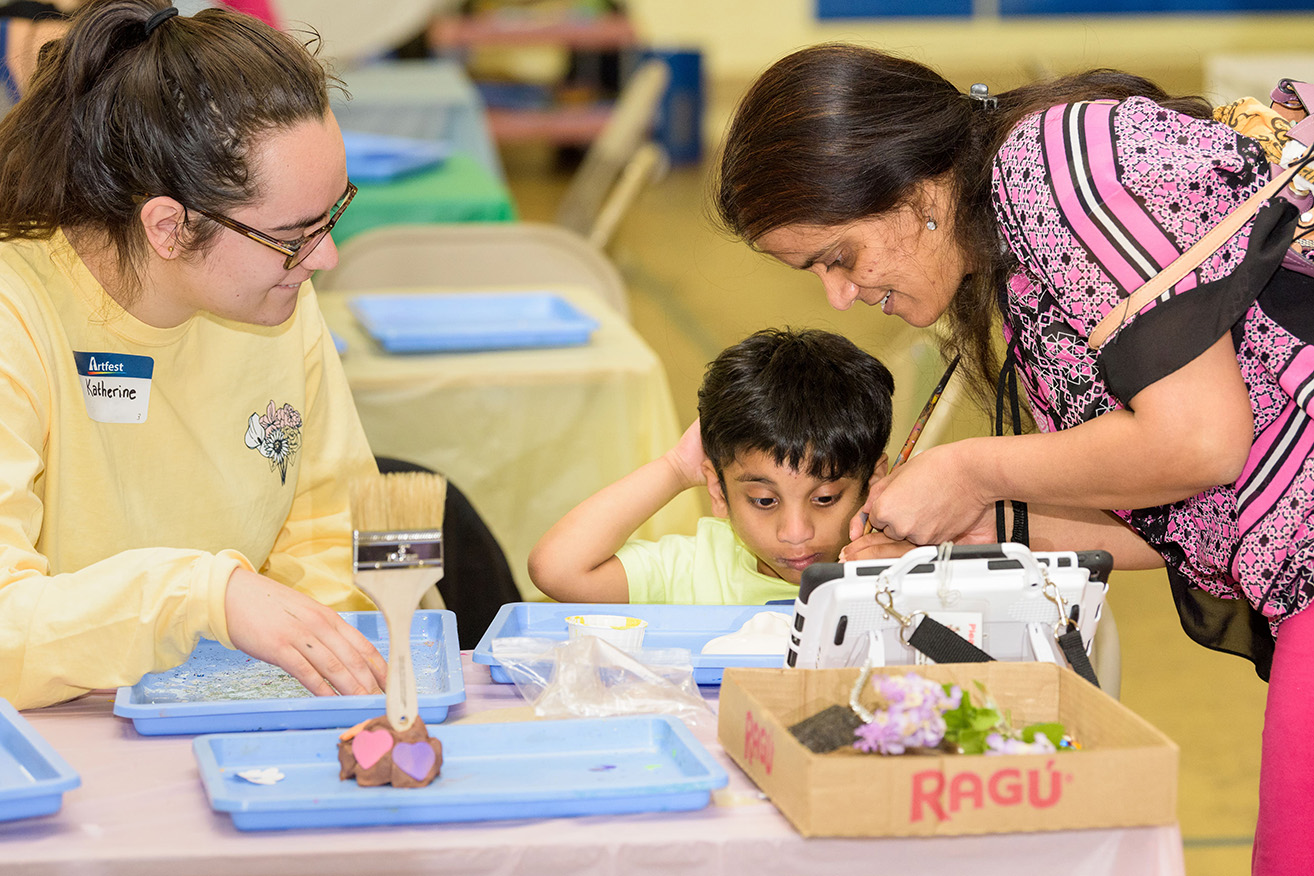 Tanishq Jawale contemplates his next move, supported by a family member and a UD student volunteer. (Karl Malgiero / University of Delaware)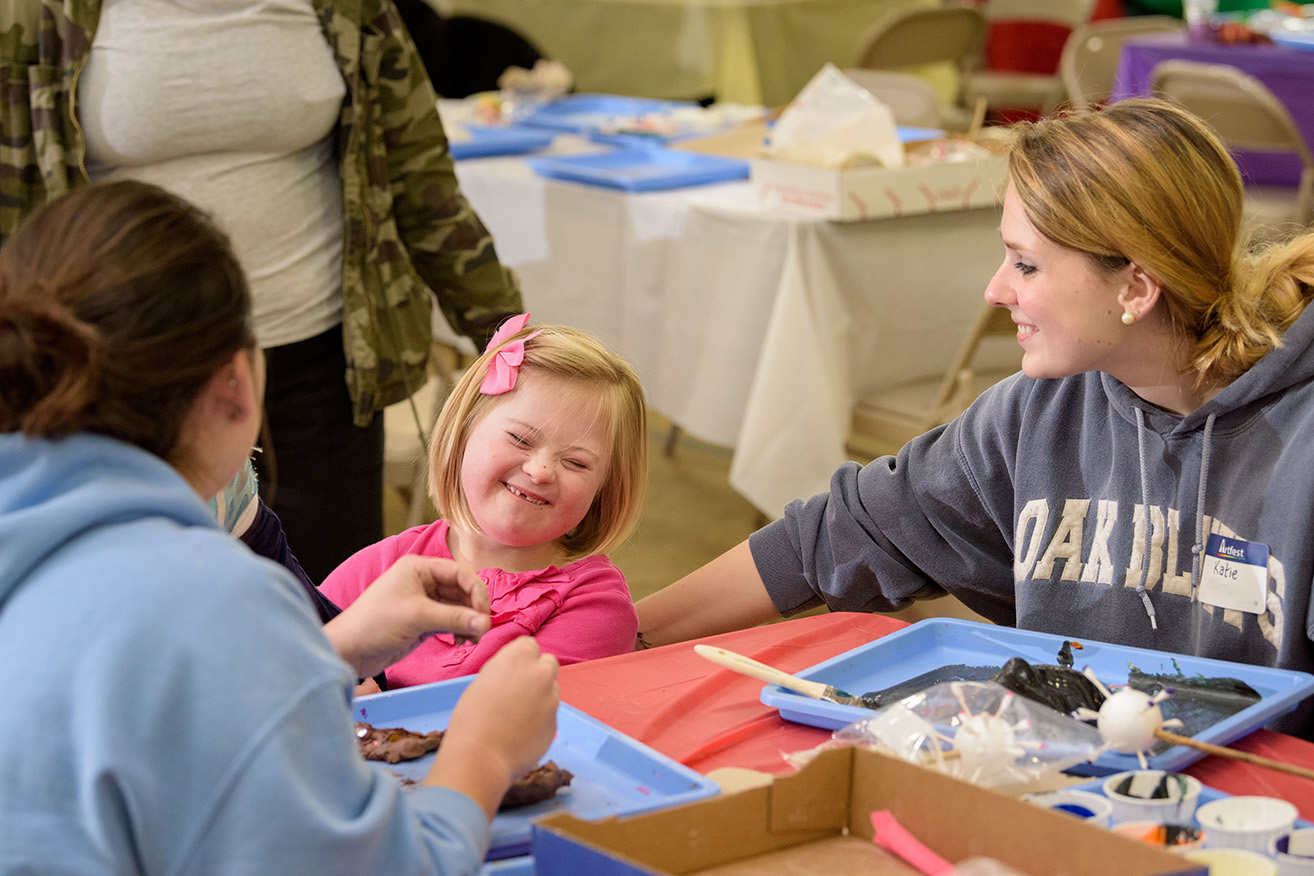 Natalie Rohe (center) shares a smile with UD student Katie Wyman. (Evan Krape / University of Delaware)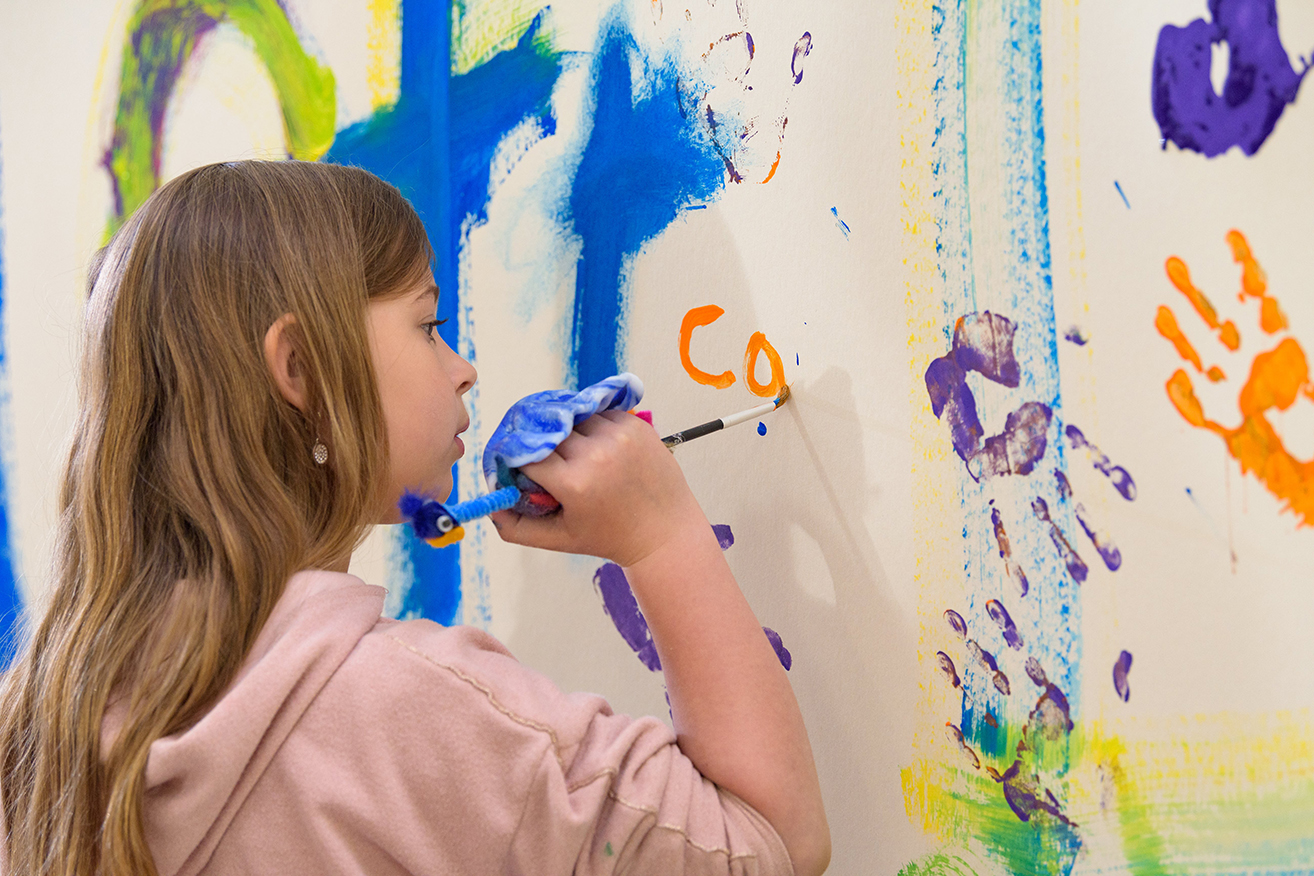 An Artfest participant uses an adaptive brush. (Evan Krape / University of Delaware)
This entry was posted in About CDS, News, News from CDS and tagged Artfest, community engagement, events.