Autism sex ed scholar presents at CDS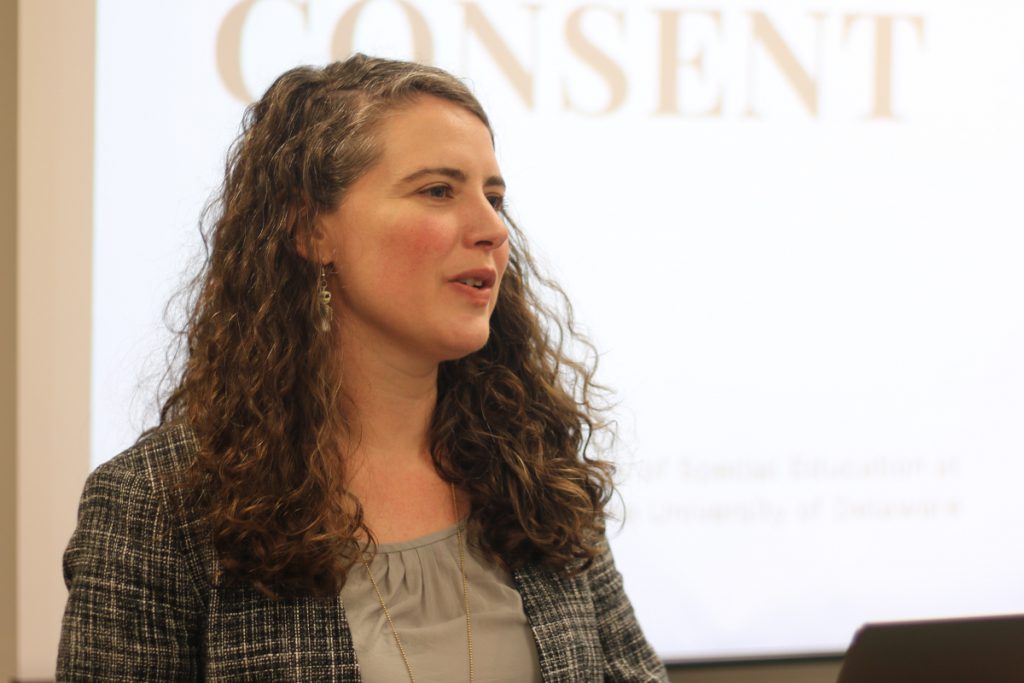 Sarah Curtiss, assistant professor of special education at the University of Delaware and the creator of ASDSexEd.org.
People with intellectual and developmental disabilities should learn about healthy sexual practices as well as self-protection against abuse, special education professor Sarah Curtiss said at a Center for Disabilities Studies event on sexual consent Thursday. Curtiss, whose research interests focus on sexual expression by individuals with autism and other intellectual and developmental disabilities, spoke to a diverse audience that included self-advocates, family members, care providers, state employees, public health advocates and law enforcement personnel. Her presentation was the latest in CDS's Lunchtime Learning series of monthly events covering CDS programs, current issues and other topics of interest to the disability community.
Curtiss said that, contrary to common assumptions, many people with intellectual and developmental disabilities can express their sexuality safely and responsibly. The key step to help them prepare for sexual activity that parents and caregivers often neglect, she said, is helping to cultivate skills and awareness of sexual consent and the range of sexual options available.
Not all individuals with intellectual or developmental disabilities have the capacity to consent to sex, Curtiss said. While making that determination can be difficult, there is broad agreement that the criteria should include basic knowledge about sex and sexual norms; awareness of the potential for pregnancy or sexually transmitted infections; an understanding of what constitutes abuse; and the ability to communicate dissent.
For individuals who are judged not to have the capacity to consent to sex, said Curtiss, a section in the Delaware Title Code offers some legal protection. The passage lists cognitive disability and mental illness among other characteristics – such as age – that the law considers rape even if no coercion is involved.
However, she urged the audience to "presume competence" when supporting a person with an intellectual or developmental disability considering sexual activity. Said Curtiss: "Autonomy and safety can go hand in hand."
This entry was posted in About CDS, News, News from CDS and tagged consent, sex, sexual consent.