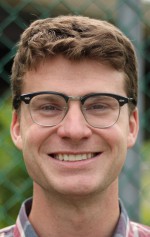 Wes Garton
Spectrum Scholars Academic Coordinator
Bio:
Wes facilitates academic access and success for students with disabilities through CDS's Career and Life Studies Certificate (CLSC) and EDGE Extension programs. The academic coaching that Wes oversees is designed to help the students improve areas of academic functioning, including time management, organization and study skills.
Before arriving at CDS, Wes worked for two years in West Chester University's Office of Services for Students with Disabilities, supporting students through academic coaching, mentoring, proctoring and transitional awareness. Wes has also worked with local high schools in the Chester County area to better prepare high school students with disabilities in their pursuit of a post-secondary education. In February 2016, Wes presented a workshop at the Delaware Valley Student Affairs Conference on transitional issues for college seniors.
In May 2016, Wes received his M.S. in Higher Education Counseling & Student Affairs from West Chester University.
A runner, drummer and constant hummer, Wes loves being outside, exploring new areas and going to shows. He lives in Kennett Square, Pa., with his fiance.