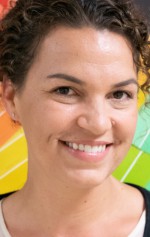 Sarah Mallory
Director of Health & Wellness
Assistant Professor
Bio:
Sarah Mallory is the interim director of the Health and Wellness unit, overseeing projects in the realms of public health, mental health, emergency preparedness and children with special health care needs. She is also an assistant professor with a joint appointment in the School of Education and Center for Disabilities Studies. Sarah brings her expertise in autism and professional training to the Delaware Leadership Education in Neurodevelopmental Disabilities (LEND) team, where she works with preservice and in-service professionals, families and self-advocates. She provides professional development in creating and implementing evidence-based teaching and support strategies for individuals diagnosed with autism or other developmental disabilities.
Before joining CDS, Sarah was the director of Special Education Teacher Preparation Programs at the University of Maryland. She received her Ph.D. from Teachers College, Columbia University, where she was an instructor in the Intellectual Disability/Autism Teacher Preparation program and an advanced doctoral fellow at the Center for Opportunities and Outcomes for People with Disabilities. Before entering academia, Sarah was a special education teacher and has experience working with children with an educational classification of autism and their families in public school and home-based settings. 
Sarah lives in Bel Air, Md., with her husband, two children and panda shepherd dog.  A former collegiate rower, Sarah enjoys outdoor time with her family, exploring new places and sampling new cuisines.