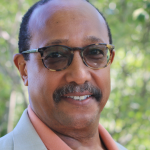 Ron Sibert
Bio:
Ron Sibert is the funding and policy specialist with CDS's Delaware Assistive Technology Initiative (DATI), where he conducts assistive technology- and public policy-related research. Before joining DATI, he served as the senior enterprise development director at the National League for Nursing.  
Ron also worked for the Graduate Management Admission Council (GMAC), where his efforts led to the creation of an affordable and contextually appropriate Pan-African assessment. He also held leadership roles in MBA program administration at the University of Delaware. As the assistive technology funding & policy specialist at the UD Center for Applied Science & Engineering in Rehabilitation, he collaborated with state agencies to develop strategies for financing specialized medical and rehabilitative equipment for people with disabilities. Ron eventually was appointed chairman of the Governor's Advisory Council for Exceptional Citizens by Gov. Thomas Carper.
Ron holds a Ph.D. in Public Policy & Administration and an MBA in Finance from UD and a B.S. in Psychology from Drexel University. He enjoys cycling and chess, lives in Middletown, practices Nichiren Buddhism, and is an active member of SGI-USA, a lay Buddhist non-governmental organization of the United Nations dedicated to peace, culture, and education.