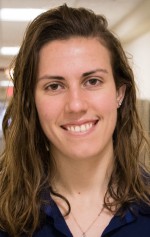 Rebecca Jewell
Bio:
As a member of the Career and Life Studies Certificate (CLSC) team, Rebecca coaches and instructs students in the CLSC program and coordinates its residential component. She also coordinates Summer CLSC, by which she supports high school students with disabilities in exploring a variety of career and educational options that align with their individual interests. Rebecca also facilitates the development of social connecting and leadership skills in adults with disabilities through Community Connectors.
A Blue Hen through and through, Rebecca graduated from the University of Delaware with her Bachelor of Science in Human Services as well as a minor in Disability Studies. As a student, Rebecca founded the student organization Unified Theater, with the goal of breaking down barriers between students with and without disabilities through performing arts. Introduced to CLSC as a sophomore in the course Mentoring Students with Intellectual and Developmental Disabilities, Rebecca has worked with the program ever since.
A health and fitness fanatic, Rebecca enjoys running, CrossFit, and outdoor adventure. Infamous for her love of peanut butter, Rebecca always keeps a jar on her desk and founded the student organization Peanut Butter Club in 2016. She lives in Newark.