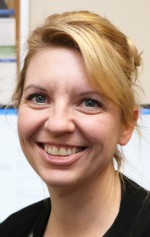 Niki Kendall
Bio:
Niki works with the Delaware Positive Behavior Support project, where she helps build the capacity of local educators to support individual students who demonstrate intense behavioral needs.
Before coming to CDS, Niki was a school psychologist in the Capital School District in Dover, Del., supporting students in preschool and elementary school. Recently, she was named Delaware School Psychologist of the Year by the Delaware Association of School Psychologists. In addition to her work as a school psychologist, Niki has several years of experience as a substitute teacher and early childhood educator. She has an undergraduate degree in Elementary Education from Lock Haven University and an Educational Specialist degree in School Psychology from Marywood University.
As a 200-hour registered yoga teacher, Niki enjoys sharing her interest in mindfulness and yoga with children and adults in her community. Originally from Binghamton, N.Y., Niki now lives in Dover, Del., with her Boston Terrier, Sasha.