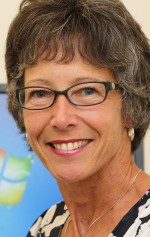 Melanie Sipko
Bio:
Melanie joined CDS's TEEM (Transition, Education and Employment Model) unit in 2010. Today, she teaches courses in the Career & Life Studies Certificate (CLSC) program and provides individualized 1-on-1 life skills coaching that supports students with intellectual disabilities as they work toward achieving personal goals and increasing their level of independence and self-determination.
Before CDS, Melanie worked in the human services field as a vocational evaluator, job placement specialist and case manager. Her 10 years of experience included working at Bryn Mawr Rehabilitation Hospital in Malvern, Pa. and later in the private rehabilitation sector with industrially injured clientele. Additionally, Melanie worked as an account representative for a staffing agency. Area schools and churches know her from her years as a volunteer and teacher's aide.
In her "too-little spare-time," Melanie enjoys being with with her family at the beach, pool or lake, walking in the park or taking in a show.
She lives in Newark, Del.