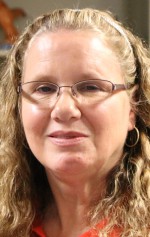 Loretta MacLaren
Bio:
Loretta MacLaren is likely the first person a caller would connect with at the Delaware Assistive Technology Initiative. As the staff assistant in DATI's assistive technology lending library, she facilitates equipment loans. She also coordinates the many trips DATI staff take each year to events like conferences, transition fairs and accessible design workshops, where they promote the program and showcase devices from the library.
Before joining CDS, Loretta managed the maintenance office for a company that owned more than 1,200 rental homes. As a public liaison, one of her responsibilities was serving as the point person whenever residents with disabilities needed accommodations or home modifications.
Loretta lives in Bear with her two daughters and one son. They share the house with two cats and a dog, all three rescues. She is an avid reader and loves taking walks, which she says are great times to relax.