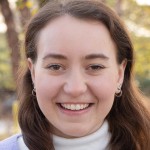 Leah Krauskopf
Bio:
As CDS's Career and Life Studies Certificate (CLSC) career counselor, Leah oversees student internships, career development and employment opportunities. CLSC is an inclusive higher education program that offers students with intellectual disabilities academic, career, and independent-living instruction that prepares them for future employment or further education.
Leah works to match CLSC students to local employers with available internships and employment opportunities that align with the students' career interests. She also coordinates job shadows and informational interviews for Disability Mentoring Week, and teaches the Introduction to Employment course for Year 1 CLSC students. 
Leah graduated from UD in 2022 with a bachelor of science in Human Services and a Clinical Services concentration. As an undergraduate research assistant, she explored stress, cognition, discrimination and blood pressure in older adults. She is currently pursuing a master's in Educational Technology.
Leah is originally from Chicago, Il., and now lives in Elkton, Md. When she's not working, you'll find her on the ice coaching figure skating, spending time with her friends and family, playing sports and being outdoors.