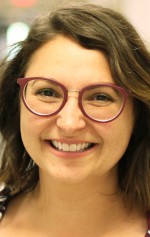 Jessica Monahan
Spectrum Scholars Research Manager
Bio:
Jessica is the research manager for Spectrum Scholars, a comprehensive college-to-career program for UD undergrads on the autism spectrum. She coordinates research studies with members of the Spectrum Scholars team and collaborators around the university and community. She examines college and career readiness for students with disabilities, seeking to refine our understanding of the supports necessary for those students to succeed in adult life.
Jessica previously taught as a special educator in a public high school in Connecticut and worked as a project coordinator with the Postsecondary Education for All Collaborative (PEAC), a federally funded, inclusive college program for students with intellectual disabilities at Louisiana State University Health Sciences Center in New Orleans. She is completing her Ph.D. in educational psychology at the University of Connecticut, has presented her research at multiple national conferences and is published in a variety of peer-reviewed journals.
Jessica recently moved to Bear, Del. with her husband, two young boys and two dogs. She enjoys competing in triathlons, having dance parties with her sons and exploring Delaware with her family.