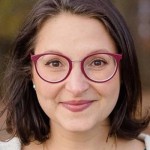 Jess Monahan
Spectrum Scholars Research Manager
Bio:
Jess is a neurodivergent researcher for Spectrum Scholars, a comprehensive college-to-career program for UD autistic undergrads. She has a Ph.D. in Educational Psychology from the University of Connecticut and holds a secondary appointment as an Assistant Professor in the School of Education at UD.
Jess coordinates research studies with members of the autistic community, the Spectrum Scholars team and collaborators around the University. Her research focuses on the interests and needs of autistic students on campus. Currently, this focus includes the mental health of autistic college students and creating a more inclusive environment through amplifying student voice. Jess has published in a number of peer-reviewed journals and has presented at national and international conferences.
She teaches courses in special education policy, assessment and introductory courses for general education students. Jess previously taught as a special educator in a public high school in Connecticut and worked as a project coordinator with the Postsecondary Education for All Collaborative (PEAC), a federally funded, inclusive college program for students with intellectual disabilities at Louisiana State University Health Sciences Center in New Orleans.
Jess lives in Newark, Del., with her husband and three children. You can often find her at local coffee shops on Main Street or having a dance party to hits from the 90s!