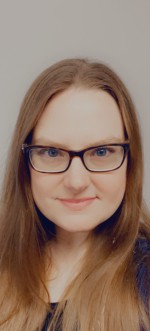 Jennifer Grelak
Academic Program Coordinator
Bio:
Jennifer is an academic program coordinator for Spectrum Scholars, a comprehensive college-to-career program for UD undergraduates on the autism spectrum. She supports students by providing one-on-one coaching focused on self-advocacy, executive functioning, academics, self-care, social engagement, career exploration and interdependent living skills. 
Jennifer has over a decade of experience in higher education. Before joining CDS, Jennifer worked at the Community College of Baltimore County in the Office of Student Conduct where she was the case manager for academic integrity and served on the college's Campus Assessment Response and Education (CARE) team, which identified, assessed and mitigated risks associated with students exhibiting concerning behavior. She has given presentations on topics related to academic integrity and classroom management strategies for addressing student conduct in an online environment. 
Jennifer received her B.A. in English Literature from the University of Baltimore, her M.A. in Leadership in Disability Services from the University of Delaware, and is currently pursuing her Ed.D. in Community College Leadership at Morgan State University. 
Jennifer lives in Bel Air, Md., with her partner Joe and their five children. She enjoys reading, traveling and family game nights.