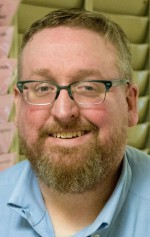 James Sellers
Bio:
James "Jay" oversees the day-to-day operations of the Career and Life Studies Certificate (CLSC) program. His responsibilities include developing the program, managing staff and logistics, maintaining relationships with internal and external stakeholders, and working one on one with students. CLSC is a two-year UD program that offers eligible students with intellectual disabilities the opportunity to participate in undergraduate courses, join clubs, hold internships and, for some, live in UD residence halls.
Before arriving at CDS, Jay spent 11 years at Temple University, most recently as the Assistant Director of Academic Support and Tutoring in the Russell Conwell Learning Center (RCLC). There he developed and oversaw multiple grant funded programs that supported underrepresented students in gaining access to and becoming successful in higher education. The RCLC Summer Bridge Program received national recognition by winning the Lee Noel and Randi Levitz Retention Excellence Award in 2011.
Jay lives in Newark, where he pursues an interest in photography and serves at the beck and call of his three dogs.