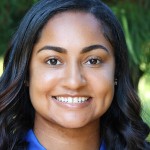 Eryn Cahoon
Academic Program Coordinator
Bio:
Eryn is an academic program coordinator for Spectrum Scholars, a comprehensive college-to-career program for UD undergraduates on the autism spectrum. She supports students by providing one-on-one coaching focused on self-advocacy, executive functioning, academics, self-care, social engagement, career exploration and interdependent living skills. She also creates different social events every month specifically for students in Spectrum Scholars.
Before joining CDS, Eryn worked at Wesley College as a success outreach specialist in the Student Success and Retention Department. She coached college students individually on academics and co-taught a course for students who were on academic probation. In December 2020, Eryn received her bachelor's degree in Educational Studies from Wesley College in Dover. 
Originally from New Jersey, Eryn lives in Bear, with her father, mother and three siblings. She loves dogs and hopes that one day she can foster them.