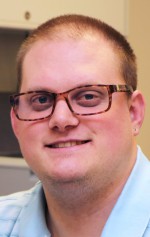 Blake Bossert
Bio:
The first person who greets visitors to CDS, Blake works the Center's front desk and supports staff members with their projects. He joined the CDS team in 2007 as an office clerk and worked his way to his current position. Blake has several learning disabilities, including dyslexia, dyscalculia and ADHD, which is part of the reason he was drawn to CDS.
Before coming to CDS, Blake graduated from Delcastle Technical High school, earning his academic diploma and vo-tech diploma in general construction. He also graduated from the University of Delaware's College School before moving on to Delcastle. Previously, Blake worked for Home Depot and several construction companies doing flooring and finishing work.
Blake enjoys spending time with his family. He is a Star Wars aficionado, though his favorite earthly hangout is Broadkill Beach. He lives with his wife and family in Newark, Del.