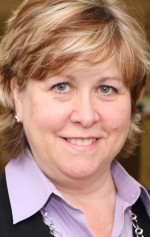 Beth Mineo
Director of CDS
Director of Assistive Technology
Co-Director of LEND
Associate Professor
Bio:
Beth became CDS's third director in 2008. She's also an associate professor in UD's School of Education, where she is a faculty member in the master's program in exceptional children and youth and the Ed.D. in educational leadership; she has a secondary appointment in the Department of Communication Sciences and Disorders in UD's College of Health Sciences; and she's the co-director at UD of the Leadership Education in Neurodevelopmental Disabilities (LEND) program.
Beth teaches graduate and undergraduate courses about assistive technology, augmentative and alternative communication, clinical practices in speech-language pathology and a senior seminar on disability studies, the capstone of UD's Disability Studies minor, which CDS administers. Beth's research interests include the relationship between various language representations and language understanding and use, the influence of emerging technologies on youngsters with disabilities, communication interventions for people with significant disabilities and the impact of accessible instructional materials on academic outcomes and student self-perception. She has published many articles and book chapters in these areas, and has served as the editor-in-chief of the journal Assistive Technology.
Beth directs the AT unit at CDS, which includes the Delaware Assistive Technology Initiative (the state AT program), the Delaware AIM Center and a model demonstration enhancing AT access for young children. Beth is also highly engaged in policy issues, particularly as they relate to access to assistive technology, accessible instructional materials and special education/developmental disabilities services. She represents the Association of Assistive Technology Act Programs on the National Joint Committee for the Communication Needs of Persons with Severe Disabilities, and also serves on several state councils and commissions.
Beth received her Ph.D. in Communication Sciences and Disorders from the University of Pittsburgh.
She met her husband when they were serving on the board of The Arc of Delaware. They live a few blocks from campus in Newark with one of their six children and a feisty poodle; between them they have six children and seven grandchildren. When she gets the chance, Beth enjoys cooking, baking, gardening, the arts and the beach.