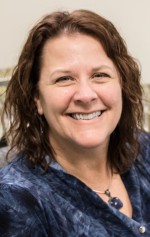 Amy Lane
Administrative Specialist
Bio:
Amy supervises all support staff, supports human resource and facility-related activities, and serves as the data coordinator. She provides technical assistance regarding proposal development and grants management to all CDS personnel. And she provides direct administrative support to the Center director relative to CDS management and accountability.
A graduate of Illinois College with a B.A. in Business Administration & Economics as well as a B.A. in Art, Amy was a fiscal management analyst with the State of Delaware before joining CDS. In her previous positions, she worked in human resource management, bookkeeping, staff supervision, program development and stakeholder management.
Amy lives with her family in Wilmington, where they enjoy sports and attend concerts whenever possible.