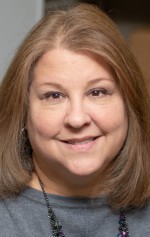 Allison Berdoulay
Assistive Technology Project Coordinator
Bio:
As the project coordinator for CDS's Delaware Assistive Technology Initiative (DATI), Allison represents the Center in collaborative ventures with other organizations, including training activities and hosting conferences. She also oversees the operations of the DATI program; manages its Assistive Technology Resource Center (ATRC) equipment inventory for the lending libraries in each county; and administers the Tobin Fund and the Borrow to Own Low-Vision Devices (BOLD) program.
Before joining CDS, Allison worked for AAA Mid-Atlantic for more than 23 years. From her beginnings as a supervisor in the roadside assistance call center, she eventually became a senior business analyst.
Originally from northern New Jersey, Allison is a UD alumna and has been an active member of the Newark Rotary Club since 2003. She is also involved with her daughter's Girl Scout troop and enjoys camping – well, glamping – and kayaking. An enthusiastic crafter and artist, Allison specializes in Pysanky egg decorating. She lives in Nottingham, Pa., with her husband, daughter, cat and small flock of chickens.