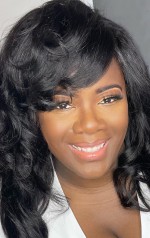 Adrienne Lucas
Spectrum Scholars Assistant Program Manager
Bio:
Adrienne is the assistant program manager for Spectrum Scholars, a comprehensive college-to-career program for UD undergraduates on the autism spectrum. She coaches students one-on-one to help them develop self-advocacy and other skills that are vital to their success. The coaching sessions can cover topics such as executive functioning, academics, self-care, self-advocacy, social engagement, career exploration and interdependent living skills. She also develops and oversees other facets of Spectrum Scholars including group coaching and peer mentoring.
Before joining CDS, Adrienne worked as a special/general education teacher in Delaware. Adrienne holds a M.Ed. in Exceptional Children and Youth from the University of Delaware and a B.A. in Sociology from the University of Maryland – Eastern Shore. She also has experience working with adults with disabilities in residential settings, having served as a program coordinator with Delaware MENTOR.
Originally from Maryland's Eastern Shore, Adrienne lives in Clayton, Del., with her husband, two children, and puppy. She loves singing, eating and spending time with her twin brother and family.