Disability Mentoring Day in Delaware
University of Delaware President Dennis Assanis and U.S. Sen. Chris Coons speak at Disability Mentoring Day ceremonies in Newark, Delaware, Oct. 19, 2016.
Artfest 2016
This 10-year anniversary rollout of Artfest featured people with disabilities throughout Delaware and student volunteers from the University of Delaware come together in Newport to create a collaborative circle art project, spin art, a fabric sculpture, a large mural, paint-stamp art, free-hand art, marble painting and leaf-print canvases. To view the slideshow, click this link or click on the image below.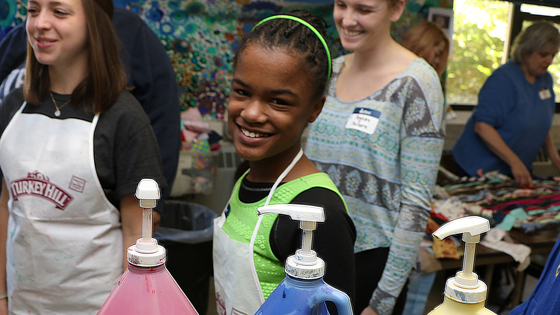 Artfest 2015
The creative workshop and community celebration presented by CDS and Art Therapy Express showcased a collaborative floor mural, a communal found-objects sculpture, the painting of ceramic masks, spin art, gelli painting, stencil painting and costumed photo shoots. Delawareans with disabilities and UD student volunteers participated. To view the slideshow, click this link or click on the image below.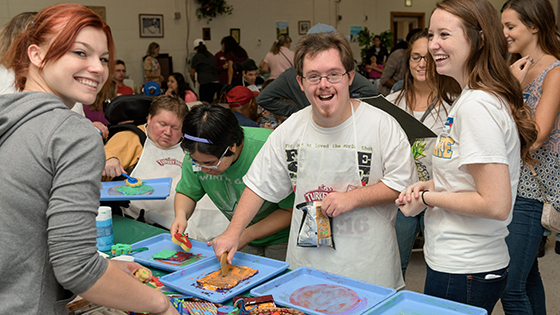 Delawareans celebrate 25th anniversary of ADA signing
CDS and Delawareans paraded to the mall outside Legislative Hall in Dover on July 18, 2015 to celebrate the 25th anniversary of the signing of the Americans with Disabilities Act.
A Closer Look: The New CMS Rule
In March 2015, Delaware sent federal officials its plan on how the state intends to comply with the new rule that increasingly steers Medicaid funding to home- and community-based settings and away from institutional settings. This University of Delaware video of a CDS town hall explains the "CMS rule" and explores how it will usher in authentic community integration for people with disabilities.
Art For Everyone's Sake
Creativity, community and inclusion take center stage in this joyous video of Artfest, hosted by CDS and Art Therapy Express.
Gov. Jack Markell calls on businesses to give people with disabilities a shot at jobs
In an interview with CDS on Disability Mentoring Day 2014, Gov. Jack Markell says government can help people with disabilities get jobs by: 1. preparing young people for the "expectation" of a "lifetime of work"; 2. being a model employer that businesses can emulate; and by 3. "making businesses understand" that employees with disabilities will benefit them.
Employers, students with disabilities connect in Delaware on Disability Mentoring Day
Take a look at the memorable work experience that these and other students with disabilities gained on Disability Mentoring Day 2014 in Newark.
Artfest 2014
To view the slideshow, click this link or click on the image below.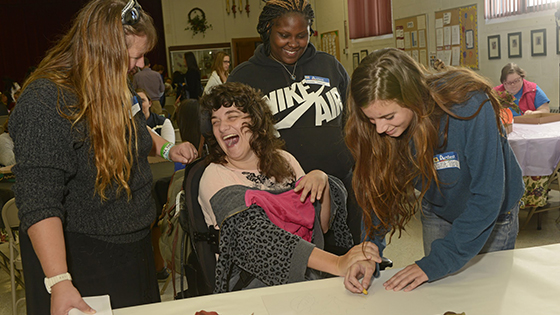 Students with Disabilities Dazzle, Receive Honors at University of Delaware
These exceptional young men and women who took center stage at UD's College of Education and Human Development's convocation ceremony aren't letting their intellectual disabilities get in the way of their education and career paths. Each just graduated with a Career and Life Studies Certificate.