CDS webinar showcases resources for wellbeing, social connection during pandemic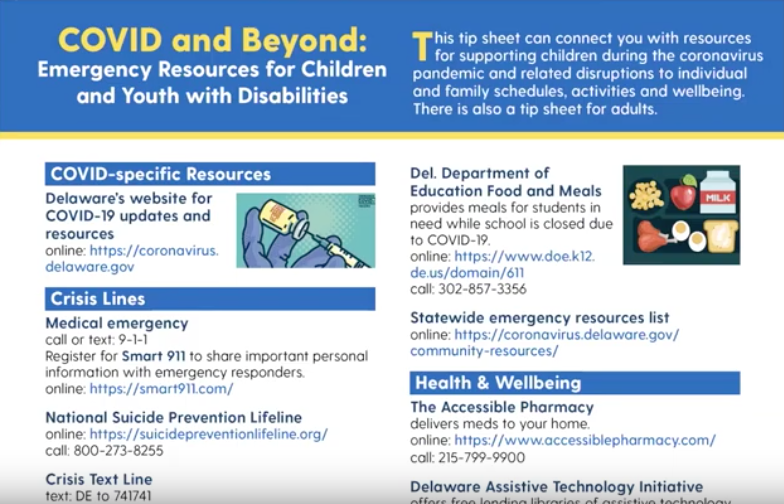 A Delaware-specific Covid resource tip sheet, one of the CDS projects shared in the Center's "Coping During Covid" webinar.
The Center for Disabilities Studies revealed new resources to keep Delawareans with disabilities healthy and safe amid the disruptions caused by Covid-19 at an online event April 30.
Delaware-specific Covid resource tip sheets, a communication technology giveaway and a push to strengthen student and staff mental health supports in public schools were among the CDS projects shared at "Coping During Covid," the latest in CDS's Lunchtime Learning series.
Sarah Mallory, CDS's interim director of health and wellness, said that disability community feedback about life during the pandemic emphasized the need for stronger mental and behavioral health supports, as well as reliable access to medical care and social determinants of health, such as food, housing and transportation.
"The pandemic is highlighting these really systemic problems that always have really existed under the surface," she said.
In response, her unit, in collaboration with the Delaware Developmental Disabilities Council (DDC), assembled adult- and youth-oriented tip sheets to connect Delawareans with critical services. They also created "My Emergency Care Plan," a portable document to share essential personal health information with first responders, and a training session in which disability advocates and medical professionals share tips for providers supporting patients with intellectual and developmental disabilities.
Another CDS project, CSI Delaware, seeks to mitigate the social isolation some have experienced during the pandemic. The equipment giveaway matches people with intellectual and developmental disabilities experiencing financial hardship with the technology and training they need to stay connected with the outside world, at no cost. It is also a collaboration with the DDC.
"For many of us, technology has been our lifeline," said CDS Director Beth Mineo. "A lot of people with disabilities don't have access to the same kind of technology, and without those outlets to the world, their isolation and loneliness has really been compounded."
Other CDS initiatives, such as Project DelAWARE, are supporting student and educator wellbeing in Delaware schools. Debby Boyer, CDS's director of K–12 Education, said a particular focus has been on making mental health a topic that every teacher covers with all students, not something only discussed by counselors and nurses.
Said Boyer: "You can imagine how much more impactful it would be if everyone in the building saw mental health and social-emotional supports as part of what they do."
This entry was posted in About CDS, News, News from CDS.