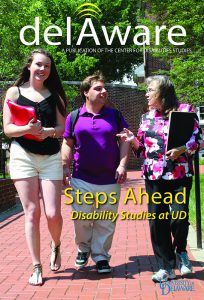 Steps Ahead: Disability Studies at UD
highlights what makes the University of Delaware's Disability Studies Minor so special. Its stories explain how the 20-years young offering became so attractive to students from so many academic disciplines; how its research opportunities often suggest or affirm students' career paths; how participating in community service through the minor can help students shape their involvement in and connection to their community; how the Minor has made UD a more progressive place to learn; and how the Minor makes students more attractive to prospective employers and enables them to make a difference.
Check out Steps Ahead: Disability Studies at UD, and you'll hear directly from students of the Minor, faculty members, administrators from the College of Education and Human Development and UD, employers and, of course, the people the Minor exists to support, individuals with disabilities and their families.