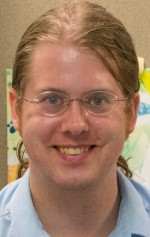 Zachary Davis
Bio:
Zachary Davis helps CDS engage with the public online, in print and in person. He contributes articles to the Annual Report, covers news from CDS and tracks state and federal legislation for the website's Advocacy section. He works at growing CDS's social media audience and coordinating events CDS hosts, such as Lunchtime Learnings. And he recently joined the roster of writers contributing to the Center's Inclusion blog.
Zachary initially trained to be a classical musician, studying the saxophone for 13 years. He also spent time working as a stage and voice actor. However, with lived experience of disability and years spent as a primary caregiver, he developed a passion for advocacy. He applies it daily at CDS, along with his communication skills, gleaned from his undergraduate work in English at the University of Delaware.
In his spare time, Zachary writes fiction, listens to audiobooks and plays video games with his mom. They like the epic fantasy games best. He lives in Elkton, Md.