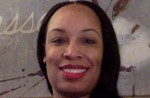 Takeisha Edmonds
Bio:
Takeisha is the SEA project coordinator for Project DelAWARE. In this role, she works collaboratively with the Delaware Department of Education, the Division of Prevention and Behavioral Health Services, the University of Delaware's Center for Drug and Health Studies, and three local school districts to implement evidence-based mental health services in schools promoting wellness and resilience for school-age youth.
Before joining CDS, Takeisha held several positions in the local, state and federal sectors of education, and grants management. She holds a bachelor's degree in Hearing and Speech Sciences, as well as master's degrees in Early Childhood Education, and Instruction.
Takeisha lives in Wilmington, Del., with her husband and three children. She spends most of her free time cheering her children on in a variety of activities, which usually leads to the exploration of New England states.