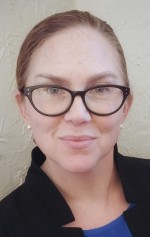 Tabitha Groh
Communications Specialist
Bio:
Tabitha is the newest member of CDS's Communications and Advocacy team, supporting its myriad print and digital initiatives, its in-person and virtual events and other collaborative efforts in support of Delaware's disability community.
Before arriving at CDS, Tabitha was a University of Delaware brand ambassador for more than 20 years while working across academic, administrative and student life units, including UD's English Language Institute, Residence Life and Housing and Auxiliary Services. Tabitha is a proud alumna of UD's MBA program and earned her BA in Art from Hood College in Maryland.
Tabitha lives with her husband, three children and spoiled dog in New London, Pa. In her free time, she is an avid reader and a burgeoning advocate for native gardening.