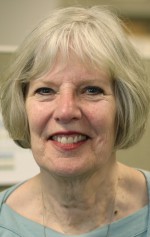 Pamela Lubbers
Bio:
Pam Lubbers is the program manager for Spectrum Scholars, a comprehensive college-to-career program for UD undergrads on the autism spectrum. She oversees the daily operation of the program, leading the Spectrum Scholars team as it provides direct, comprehensive supports to a cadre of students and autism acceptance trainings to faculty, staff, students, employers and community members. She also builds relationships at the university and in the community to foster inclusion, support and appreciation of neurodiversity.
Before coming to the University of Delaware, Pam spent eight years at Rutgers University running a comprehensive, inclusive support program for matriculated students on the spectrum. Prior to that, she worked in teaching and administrative capacities with a population of individuals with and without disabilities from middle school to adulthood. Pam is a certified teacher in Michigan, New York and New Jersey. She also holds certification in special education, supervision and curriculum design in New Jersey. With the exception of a few years spent in corporate America, Pam's work has always been dedicated to supporting, including and celebrating diverse populations in educational, work and community settings.
Pam loves spending time with family and friends and exploring new worlds. She is excited for the adventures and opportunities presented by her recent move to Wilmington, Del.