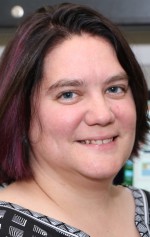 Megan Conway
Bio:
Megan promotes inclusion and access to the general education curriculum through the Adapting Curriculum & Classroom Environments for Student Success (ACCESS) project. Megan is also the project coordinator for the communication initiative, Systematic Processes for Enhancing and Assessing Communication Supports (SPEACS). The project seeks to improve communication and educational services for students with complex communication needs. She also works on providing training to teachers across the state.
Before arriving at CDS, Megan was a special education teacher for 12 years at the John G. Leach School in Colonial School District. While at Leach, Megan taught high school special-education students academic, functional and vocational skills.
Megan lives in Pike Creek, Del., and in her free time volunteers with The Delaware Theatre Company's Totally Awesome Players, an acting troupe for individuals with disabilities.