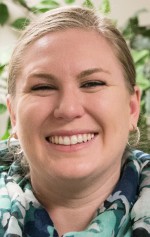 Kellene Copeland
Bio:
Kellene provides professional development and coaching to educators, clinicians and other professionals on topics related to supporting people with Autism Spectrum Disorder and their families. As a coach for the Delaware Network for Excellence in Autism (DNEA), she assists schools and other organizations with identifying and implementing evidence-based practices and creating an environment that promotes success for children and adults with ASD and their families.
Before arriving at CDS, Kellene was an instructional coach for the Kent County Community School/Delaware Autism Program in the Capital School District. She provided training and supports to students and staff on instruction and behavioral interventions. She is also a Devereux Safe and Positive Approaches Trainer. She received her Master's and certification in Autism and Severe Disabilities from Wilmington University.
When Kellene is not at work, you will likely find her curled up with a book and her dog, Huey. She lives in Clayton with her husband.