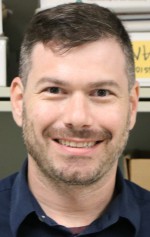 Karl Malgiero
Bio:
As the communications assistant for CDS, Karl works at updating and creating material for the website, and supporting internal and external communications through email, promotions, blogs, newsletters and various online and offline media. He also assists with audio-visual production for many of CDS's events, usually with a DSLR camera around his neck to capture all the action, and edits much of the Center's video content. He joined the CDS team part-time in 2017 and came on full-time a year later.
Before arriving at CDS, Karl, a lifelong Delawarean, helped establish the state's NPR news radio station in Dover in 2010. His work in public broadcasting began several years earlier at WHYY-TV's Wilmington studio, helping to produce the nightly Delaware Tonight news program.
Karl spends the majority of his free time with his family, and loves hiking, driving on Route 9, shopping for records and enjoying all the art and culture that the region has to offer. Although usually, you can catch him in his Wilmington home reading, cooking or chilling out on the couch.