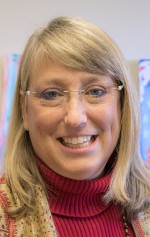 Karen Marsh
Family SHADE Project Director
Bio:
Karen Marsh is project director of Family Support and Healthcare Alliance Delaware (Family SHADE), a collaborative alliance of family partners and 70-plus organizations and agencies committed to improving the quality of life for children with disabilities and chronic medical/health conditions in Delaware. It does that by connecting families and providers to information, resources and service; advocating for solutions to gaps in service; and supporting its member organizations.
Before arriving at CDS, Karen was a substitute teacher and special education paraprofessional with Appoqunimink school district. She is on staff at West Virginia's Camp GIZMO, a hands-on summer camp where parents, professionals, and students learn how assistive technology can help young children with significant and multiple developmental needs. Karen is past president of the Down Syndrome Association of Delaware (DSA of Delaware). While with the DSA of Delaware, Karen initiated discussions with Delaware legislators that led to the 2014 passage of the Delaware "Down Syndrome Information" law requiring doctors to provide up-to-date, fact-based information when presenting a diagnosis of Down syndrome to a patient, either prenatally or postnatally. Karen also established the Down Syndrome Association of Delaware's annual 5K/10K Run for the Buds and worked with AI duPont Hospital for Children to establish its Down syndrome Clinic. Additionally, Karen founded the Down Syndrome Network of West Virginia and established their annual Buddy Walk.
Karen currently serves on the Nemours Center for Cancer and Blood Disorders Family Advisory Committee and is a founding member of a national support program for families affected by an Osteosarcoma diagnosis.
A resident of Middletown, Karen enjoys the beach, photography and spending time with her husband and three daughters.