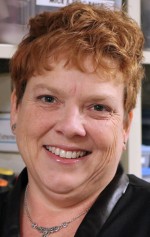 Karen Latimer
Assistive Technology Specialist
Bio:
Karen is an assistive technology specialist with the Delaware Assistive Technology Initiative (DATI) at CDS. Her degree is in Deaf Education and she has extensive background in working with technology solutions for Deaf and Hard of Hearing populations. She is also fluent in American Sign Language. Karen holds the Assistive Technology Practitioner credential from RESNA.
Karen has seen a lot of changes in the field of assistive technology over her 20 year career in AT, which included time as an AT specialist and student services coordinator for AT at Temple University in Philadelphia and in her private practice based in Arizona. She has worked with teams to help them find and implement AT solutions in school as well as employment settings.
A native Californian, Karen is not fond of East Coast winters. She and her family are "crafty" and enjoy Indy-car motor sport racing.