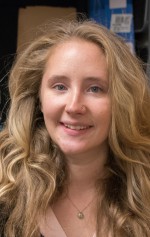 Kara Downey
Bio:
Kara manages the day-to-day functioning of the Delaware Network for Excellence in Autism (DNEA), a state-funded resource center working to improve the lives of individuals with autism spectrum disorders (ASD) and their families across the lifespan.  In this role, she helps develop and facilitate training and technical assistance of evidence-based and emerging practices, disseminate relevant practice and program information, and maintain collaborative relationships with internal and external stakeholders. 
Kara received her Masters of Social Work from Temple University with a concentration in Community and Policy Arenas.  During her time at Temple, she served as a University Center for Excellence in Developmental Disabilities Education, Research and Service trainee, supporting Philadelphia County's Independent Monitoring for Quality (IM4Q) program.
Before CDS, Kara was the project assistant for a developmental disability health initiative at Georgetown University.  She has experience working in adult DD service systems and in clinical settings, including in an ABA clinic, in the Philadelphia area and in Washington, D.C.
Kara resides in Philadelphia, Pa.  Outside work, she enjoys spending time with her partner, Mike, practicing yoga and travelling.