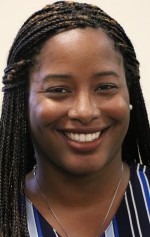 Jessica Bass
ACCESS Instructional Coach
Bio:
Jessica is an Instructional Coach for the Adapting Curriculum and Classroom Environments for Student Success (ACCESS) Project at CDS. In that role, she provides professional development and technical assistance to special educators and administrators in developing general education curricula that are more accessible to students with various types of disabilities. Jessica also provides planning assistance, observations and coaching to educators using the Universal Design for Learning (UDL) model, an educational framework that emphasizes flexibility as a way to accommodate different learning styles.
Before joining CDS, Jessica worked in Florida, Pennsylvania and Delaware as an educational diagnostician, special education coordinator, special education compliance coordinator and special/general education teacher. She had an early start, serving as a student volunteer in a 7th grade life skills class. Jessica holds a B.S. in Special Education from Tennessee State University and an M.Ed. in Educational Leadership from Pennsylvania State University.
A Cincinnati native, Jessica lives in Bear, Del., with her husband and two children. A runner and traveler, Jessica loves being on the move. Ask her about her visits to Japan, Ghana, Dublin, Paris and London.