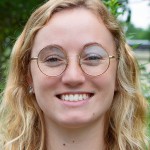 Jayla Godfrey
Academic Coordinator at CLSC
Bio:
As CDS's Career and Life Studies Certificate (CLSC) academic coordinator, Jayla facilitates the academic, residential, and campus engagement components of the program. CLSC is a two-year UD certificate program that offers eligible students with intellectual disabilities the opportunity to participate in undergraduate courses, join clubs, hold internships, and for some, live in UD residence halls.
Before joining CDS, Jayla graduated from West Chester University of Pennsylvania's Higher Education Policy and Student Affairs master's program, and obtained a Graduate Certificate in Applied Mindfulness in May of 2020. During this time, she gained experience working in the Office of Services for Students with Disabilities as a graduate assistant. In this role, she academically coached registered students, mentored other graduate assistants, oversaw the day-to-day operations of their Proctoring Center, ran the Mindfulness Program, and re-established the Mu Chapter of Delta Alpha Pi. She also holds a Bachelors of Psychology from Bloomsburg University of Pennsylvania, attained in May of 2016. With minors in Business Management and Gerontology and Aging Studies, Jayla was key in creating, planning, and implementing BU's first "Senior Games."
Originally from Red Lion, PA, she now lives in West Chester, PA with her significant other, two cats, and German Shepherd. She loves playing games with her family and friends, spending time with her significant other, laying by the pool, and being active. If you cannot find Jayla, you can usually find her at the beach, playing field hockey, or eating pickles in her kitchen.