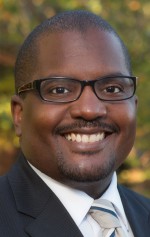 Imani Powell
Bio:
Imani counsels students with majors in the College of Education and Human Development who have declared the Disability Studies Minor.
Before arriving at CDS, Imani began his career in college admissions at the University of Delaware as an admissions counselor. Prior to returning to the University of Delaware Admissions Office in 2014, he spent eight years in a variety of roles in admissions at two member universities of the Pennsylvania State System of Higher Education – Millersville and West Chester. He has received both his Bachelor's Degree in English and Master's Degree in Educational Leadership at the University of Delaware.
Imani pursues his passions away from work by spending time with his family, listening to music, home brewing and cheering on Philadelphia area sports teams. He lives with his wife (also a UD alum), son and twin daughters in Newark, Del.