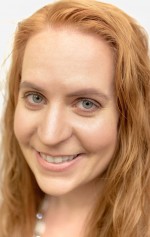 Gail Hamblin
Assistive Technology Specialist
Bio:
Gail is an assistive technology manager for the Kent County Assistive Technology Resource Center in Dover, Del. As part of the Delaware Assistive Technology Initiative (DATI), she helps Delawareans with disabilities of all ages find devices that enable them to live with more independence and dignity.
Gail holds a Master's in Applied Educational Technology from Wilmington University and a Certificate in Assistive Technology Applications from California State University, Northridge. Before joining the team at CDS, she taught pre-k special education in the Capital School District. She also has experience as an instructor in the areas of early childhood development and adult education and as a board member of the Down Syndrome Association of Delaware. 
Outside of work, Gail expresses her passion for individuals with disabilities as an author and mentor of other authors. Her children's book More Alike Than Different: A Down Syndrome Awareness Tale, published in 2017, encourages readers to create a more inclusive society. A native Delawarean, Gail enjoys spending time with her three children and husband at their home in Dover, Del.