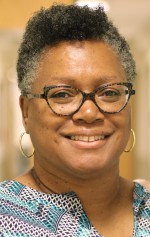 Doretha Freeman
Bio:
Doretha, who goes by Dot, handles many of the logistics of Spectrum Scholars, a comprehensive college-to-career program for UD undergrads on the autism spectrum. She acts as a liaison between program staff, faculty, students, families and other members of the community. Dedicated to educating society about the strengths and talents of individuals on the autism spectrum, she also provides resources such as fact sheets that spread autism awareness.
Before coming to CDS, Doretha was active as a volunteer. She discovered a love for service, whether handing out water during a walk-a-thon or feeding the hungry at a soup kitchen. She has also spent time working with the Community Health Division of the Department of Public Health and Delaware State University.
When she's not on campus, you're likely to find Doretha listening to music and audiobooks, reading or flying her drone – unless she's out traveling in countries with warmer climates, another passion. A native Delawarean who is active in her church, Doretha lives in Magnolia, Del.