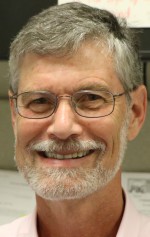 Dick Lytton
Speech-Language Pathologist/Augmentative Communication Specialist
Bio:
Dick provides consultation, training and advocacy on augmentative communication and assistive technology for people with complex communication needs. He works with individuals ranging from two-year-olds to adults with intellectual and other disabilities or progressive disorders, as well as the family members and professionals who support them. Dick also performs direct clinical work in UD's Speech, Language and Hearing Clinic on the STAR Campus, where he sees children and adults with complex communication needs and mentors speech-language pathology graduate students.
Before coming to CDS, Dick spent almost 25 years at the Nemours/A.I. duPont Hospital for Children in Wilmington, where he started the hospital's Assistive Technology & Augmentative Communication Clinic.
Dick is the father of three daughters and grandfather of three grandsons. Like his mother, he is an avid gardener, and not just because it gave him time outside alone when the girls were growing up. He loves being near the ocean with the changing tides and smell of salt air, neither of which bodies of fresh water have. He lives in Wynnewood, Pa.