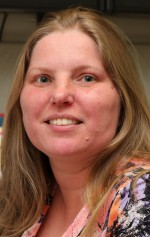 Candy Greenleaf
Bio:
Candy supports the Center's Career and Life Studies Certificate (CLSC) program, UD's two-year campus initiative for students with intellectual disabilities, by aiding CLSC staff and CLSC students and allowing families to learn about the program. She joined the team in 2017, a year after arriving at CDS.
Before CDS, Candy worked for Harford County Public Schools for several years as an inclusion aide for students with disabilities. She's mother to a son with medical disabilities and aunt to a nephew with autism, factors that Candy says also drew her to CDS.
Candy enjoys spending time with her family, going to church, volunteering and reading. She lives with her husband, David, her four children, Chrissy, Cole, Serenity, Skylar, and their dog, Lilly.