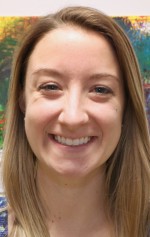 Brittany Powers
Early Childhood ASD Projects Coordinator
Bio:
Brittany administers the Building Bridges state implementation grant for autism spectrum disorder (ASD) in children birth to three; collaborates with state- and nation-wide multidisciplinary partners on projects around telemedicine, physician training, care coordination and use of evidence-based practice in early intervention; and works closely with the Delaware Network for Excellence in Autism (DNEA).
Brittany completed the Leadership Education in Neurodevelopmental Disabilities (LEND) program at the Westchester Institute for Human Development, where she participated in a research project about children with developmental disabilities in the child welfare system. She also conducted an extensive review of screening tools for ASD. Brittany received her Master's in Public Health and Certificate in Health Education from New York Medical College.
Before coming to CDS, Brittany was a research coordinator at the Children's Hospital of Philadelphia. She worked closely with the principal investigator on grant management and collaborated across departments to oversee research procedures, including brain imaging and neurodevelopmental testing for medically complex children.
Brittany lives in Exton, Pa. On weekends, she enjoys reading, travelling and hiking with her husband, Ryan, and playful dog, Remi.