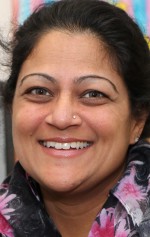 Bhavana Viswanathan
Family SHADE Project Coordinator
Bio:
In support of Family SHADE, an alliance that connects families of children and youth with special health care needs to services that can benefit them, Bhavana provides resources, referrals, training and technical assistance to individuals and member organizations. Previously at CDS, she was the project coordinator of the Healthy Delawareans with Disabilities project.
Bhavana arrived at CDS in 2014 with more than 15 years of local, state and national experience in child health, public health and socials services. She has served as the Children and Youth with Special Health Care Needs program director at the Delaware Division of Public Health, and was appointed by Gov. Jack Markell to represent the Division of Public Health on statewide councils, such as the Interagency Coordinating Council and the Early Hearing Detection and Intervention Advisory Board.
Bhavana has a Master's in Public Health (Maternal and Child Health), a Master's in Business Administration (Health Management) and a Master's in Science (Audiology).
She grew up in the Midwest, and has lived in Delaware since 2004.