Special Education Administrative Leadership (SEAL) Program Virtual Info Session
December 8
4:00 pm
–
5:30 pm
Online Webinar/Livestream
, ,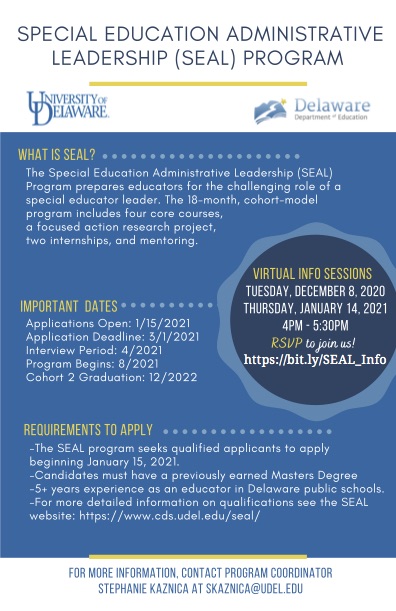 Educators with a master's degree and at least five years of experience in Delaware schools are invited to learn more about the Special Education Administrative Leadership (SEAL) program, a collaboration between CDS and the Delaware Department of Education.
SEAL prepares educators for the challenging role of special education leader. The 18-month, cohort-model program includes four core courses, a focused action research project, two internships and mentoring.
SEAL serves as an alternative route to certification for the position of district special education director.
For more information, contact program coordinator Stephanie Kaznica at skaznica@udel.edu.
Add this event to your calendar:
iCal | Google Calendar