Career and Life Studies Certificate (CLSC) Program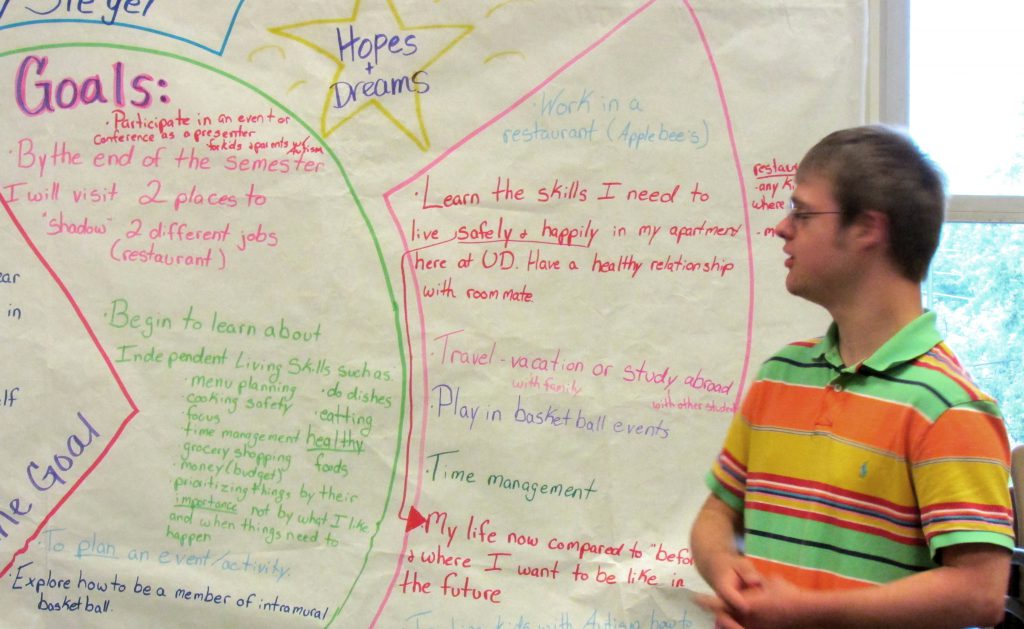 Person-centered planning and coaching
CLSC utilizes a person-centered process in supporting students as they identify their personal and professional goals, and then work toward achieving those goals. The process begins during the first fall semester with the creation of a "PATH," a living document developed by each student with the support of CLSC staff, their family and other support team members.
The PATH identifies:
Skills and experiences the students have already achieved in pursuit of their goals
Next steps that need to be taken
Members of their network who can assist
Skills that need to be developed
CLSC students then work toward those goals through activities in the UD community and with the support of individualized 1-on-1 coaching. All CLSC students meet with a "point coach" for about four hours per week. With their point coaches, students work with their PATH, developing the skills and networks they need in order to reach their goals. Changes are then made to the PATH as wished, when identified steps are achieved or as goals change over time. Students may work on such things as time management skills, connecting with fellow UD students, staying on top of assignments, and preparing to live on their own.
Academic coursework
CLSC students enroll in undergraduate courses in each of their semesters at UD. This starts in the fall semester of their first year with "First Year Experience," a course taken by all UD freshman that offers an orientation to UD academics and campus resources. In each of the following four semesters, CLSC students take at least three credits of undergraduate coursework. All courses are selected by the students and are tied to personal or professional goals. Students can elect to take any one of their courses for audit or credit. Students also participate in academic coaching with their "point coach" and receive accommodations as needed through the UD Office of Disability Support Services. CLSC staff work with students and faculty to assist CLSC students in accessing all aspects of their courses.
CLSC students also participate in course modules developed specifically for the CLSC program where they develop short- and long-term goals, engage in problem-solving activities, assess career options, and develop a professional portfolio. Our CLSC program curriculum offers more information about the activities incorporated into each semester.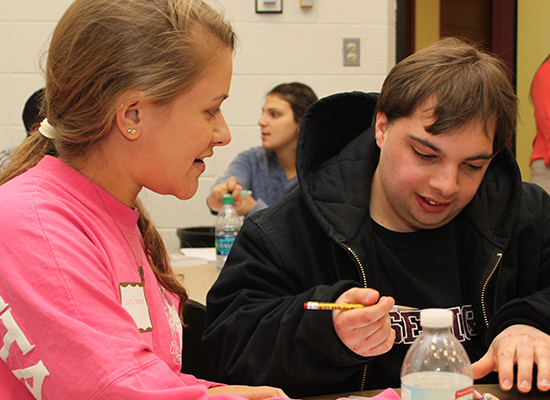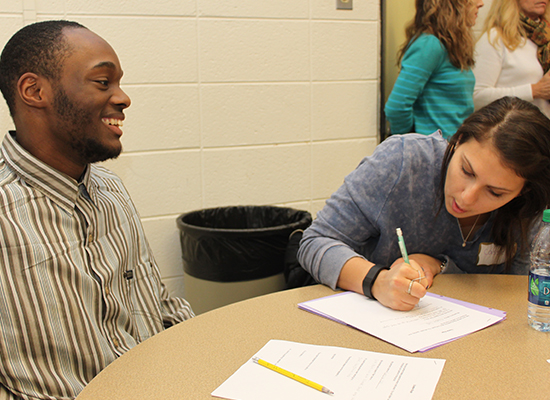 Participating in campus life
CLSC students actively engage in UD campus life, whether playing on a recreational soccer team, joining theater groups or attending sporting events and concerts. They've spent time as a DJ at UD's radio station and participated in UD's Alternative Spring Break program. All of them work with CLSC staff to identify those resources and activities that they are most interested in, and then receive supports as needed in building connections and participating.
Some CLSC students are interested in living on-campus, just like many other college students. To support them, CLSC staff collaborate with the UD Office of Residence Life. CLSC students have the option of living in a residence hall with first year undergraduate students or upperclass undergraduates. CLSC students often have roommates, who could be either a CLSC student or undergraduate student. Coaching and mentoring help support students in developing the skills and natural supports needed to be successful in living more on their own. Limited space is available in the residence halls, so students interested in living on campus should indicate this on their application.


Internship and career exploration
CLSC students participate in a variety of career exploration activities in the classroom and through work experiences. Through workshops and course modules, students complete career assessments, consider different career options based on their strengths and interests, visit different job sites, and develop a professional portfolio. One of these exploratory experiences occurs through an event called Disability Mentoring Day, highlighted in this brief video.
Students also have multiple internship opportunities, from brief 2-hour per week experiences to extended 12-hour per week experiences. Internships are selected based on the student's interest and create chances for the student to learn about career options in a particular field, learn and practice skills specific to that industry, and network with prospective supervisors and co-workers. Students are supported at their internship by job coaches from St. John's Community Services, who fade over time as the students become more independent and rely instead on co-workers, supervisors and other supports that are built into their internship setting.