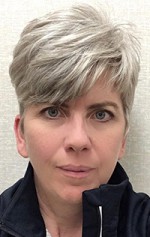 Suzanne Milbourne
Bio:
Suzanne is the co-director of the Delaware Early Childhood Assistive Technology Demonstration five-year, federally funded project, awarded in January 2013 to CDS. The project also launched "fabricATe" – a maker movement approach to acquiring assistive technology devices and tools for young children with disabilities.
Before relocating to Delaware in 2008, Suzanne served as the coordinator for the federally funded Tots N' Tech Research Institute, an inter-university collaboration with a mission to provide up-to-date information and resources about adaptations, including assistive technology, to use with infants and toddlers for states, early intervention providers of all disciplines and families across the country. Suzanne is the co-author of the award-winning CARA's Kit for Preschoolers (2007), its companion 2012 Toddler version and the TAM Technology Fan for Young Children (2006). She has authored several articles and presentations on the use of adaptations to promote young children's participation in everyday routines and activities.
Suzanne received her Ph.D., focusing on early intervention service delivery systems, from the University of Delaware, Department of Human Development and Family Studies. She got her M.A. in occupational therapy, early intervention specialty track, from Thomas Jefferson University.
Suzanne creates a work-life balance by traveling regularly between Newark and the Jersey shore (yes, the Jersey shore, because she was born and raised in Philadelphia).